Stiri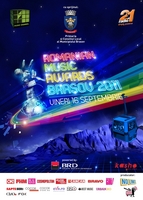 Romanian Music Awards 2011 – Nominalizari
Au fost anuntate nominalizarile la principalele premii aleRomanian Music Awards 2011 . Show-ul va avea loc pe 16 septembrie la Brasov si va fi prezentat de Puya care este nominalizat la doua categorii.
A sosit momentul sa va bucurati ca artistii vostri preferati sunt nominalizati sau sa va revoltati ca nu se regasesc in lista de mai jos.
Romanian Music Awards 2011 e cel mai important eveniment de decernare a premiilor muzicale romanesti - e sprijinit de toate casele de discuri si de mass-media.
Premiile RMA sunt organizate de Music Channel si Radio21 , iar echipa Urban.ro va fi prezenta acolo in calitate de partener, pentru a va tine la curent ca in fiecare an cu tot ce misca la aceste premii. Mai mult decat atat, pregatim ceva special! ;)
Votarea a inceput azi-dimineata, gasiti mai jos linkul unde puteti vota! Ce parere aveti, pana acum?
Best FEMALE
ALEXANDRA STAN – Mr. Saxobeat
ANDRA – Something New
ANDREEA BANICA – Love In Brasil
CORINA-No Sleepin' (ft. JJ)
INNA – Sun Is Up
Best ALBUM
IRIS- 12 Porti
PLAY & WIN – Change The World
PUYA – Romanisme II
ROA – Artificial
SMILEY – Plec Pe Marte
Best DANCE
ALEXANDRA STAN – Mr. Saxobeat
INNA- Sun Is Up
PLAY & WIN-Ya BB
SASHA LOPEZ – All My People
SUNRISE INC – Lickshot
Best DJ
DJ ANDY – Hapiness (ft. Stella)
DJ SAVA – I Like The Trumpet
LIVIU HODOR ft. TARA – Dream With You
NICK KAMARERA – Kalya (ft. Mike Diamondz)
SASHA LOPEZ – All My People
Best GROUP
AKCENT- My Passion
DEEPCENTRAL – Music Makes Me Free
DJ PROJECT feat. GIULIA – Mi-e Dor De…
FLY PROJECT – Goodbye
PLAY & WIN – Ya BB
Best HIP HOP
GRASU XXL – Azi Nu (ft. Guess who)
GUESS WHO – Manifest
MARC ONE ft. CHELOO – We Don't Care
PUYA- AmericanDrim (ft. Connect-R)
SPIKE – Realitate
Best LIVE
DIRECTIA 5
IRIS
LOREDANA
SMILEY
VOLTAJ
Best MALE
ALEX VELEA – One Shot
CONNECT-R – Ring The Alarm
CRBL – Romanu' N-are Noroc
GUESS WHO – Manifest
SMILEY – Love Is For Free (ft. Pacha Man)
Best NEW ACT
AMNA – Tell Me Why
DJ ROBERT GEORGESCU ft. LARA– Beside You
ELLIE WHITE-Nu Te Mai Caut
ROA – Ne Place
SUNRISE INC – Lickshot
Best POP
CRUSH & ALEXANDRA UNGUREANU – I Need You More
DIRECTIA 5 – Ai Un Loc
SMILEY – Dream Girl
VOXIS – Tell Me Everything
XONIA – My Beautiful One
Best ROCK
KEO – Liber
PUBLIKA – Cazut Din Nori
VOLTAJ- Mi-e Dor De…
VUNK- Vreau O Tara Ca Afara
ZERO – So Far Away
Best SONG
AKCENT – My Passion
ALEXANDRA STAN – Mr. Saxobeat
ANDREEA BANICA– Love in Brasil
ROA – Ne Place
SMILEY ft. PACHA MAN – Love Is For Free
Best VIDEO
ANDREEA BANICA – Sexy
CORINA ft. JJ – No Sleepin'
INNA – Club Rocker
LUKONE ft. DeMOGA – Allemasse
SMILEY – Dream Girl
Best WEBSITE
www.akcentonline.com
www.andreeabanica.com
www.inna.ro
www.radiokiller.ro
www.smileyonline.ro
Fii tu cel care decide cine este cel mai bun la fiecare categorie Romanian Music Awards 2011 si intra pe http://rma.1music.ro pentru a vota artistul preferat.
Cine ai vrea sa castige? Cu cine ai votat? Pe cine ai vrea sa vezi in lista?
Sursa: www.urban.ro
Autor: Daimon, postat luni, 01 august 2011, 18:05